Integral solution for crops management and advice
SMART AGRICULTURE FOR YOUR CROPS
Advanced software for agriculture management ALL IN ONE. Manage and take the control of your crops in an efficient manner, achieving the best results from any place.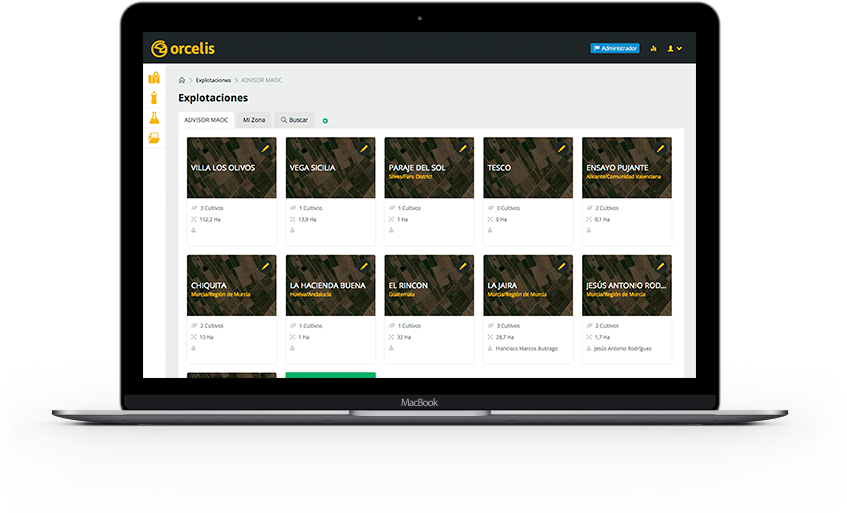 GET TO KNOW US IN 1 MINUTE
Orcelis Fitocontrol is an advanced software for agriculture ALL IN ONE, that allows you to manage and take decisions of your crops in real time considering all parameters: irrigation demand, fertilizer dose, soil, water and foliar analysis, climatic data, NDVI satellite images, etc.
Stop wasting your time introducing data and calculations in excel sheets, now using Orcelis Fitocontrol you can do that and much more with just one click.
FUNCIONALITIES

Fertilizer dose

NDVI Satellite Images

Meteorological data

Sensors compatibility

Irrigation needs

Water, soil and foliar analysis

Water Footprint

Phytosanitary Treatments

Field notebook

Vademecum

VNZ Indicators

Geographic Information System
It is very easy and intuitive.
Learn in just some minutes
ASK FOR A GUIDED DEMONSTRATION AND A TRIAL LICENCE
Get a never seen profitability with smart agriculture
Orcelis Fitocontrol optimizes your resources and avoids unnecessary expenses. Save till 50% of your production costs and take the maximum yield of your crops with a smart system for decisions making.
With Orcelis Fitocontrol you have all advantages.
Intuitive and simple, easy to understand and to use
Manage all your crops from the cloud
Work when and (from) where you want
All in one: Control all variables with just a click
Free support and help
Technical training to get the most of it
Our clients endorse us with
a *98% retention rate
*98% of our customers remain with us
Esto es lo que dicen de nosotros

Lo que más me gusta es la facilidad de uso, cantidad de datos que proporciona y el asesoramiento continuo ante dudas que surgen.
Con Orcelis llevas un control exhaustivo de la explotación, introduciendo los parámetros concretos para cada finca, además proporciona el cuaderno de explotación necesario para el cumplimento de la legislación vigente.
R.M
Ingeniera Agrónoma (Noray)

Es una herramienta muy útil y eficaz para el técnico ya que le permite, una vez introducidos los datos de la explotación, calcular las necesidades nutricionales rápidamente.
Con poco tiempo podrás gestionar todas tus explotaciones, incluyendo la fertilización, riego, cuaderno de campo, maquinaria, análisis, etc.
F.E Técnico
Agrogarden S.L
¿Qué podemos hacer por tu empresa?
Déjanos tus datos y te informamos sin ningún compromiso