Integral solution for crops management and advice
SMART AGRICULTURE FOR YOUR CROPS
Advanced software for agriculture management ALL IN ONE. Manage and take the control of your crops in an efficient manner, achieving the best results from any place.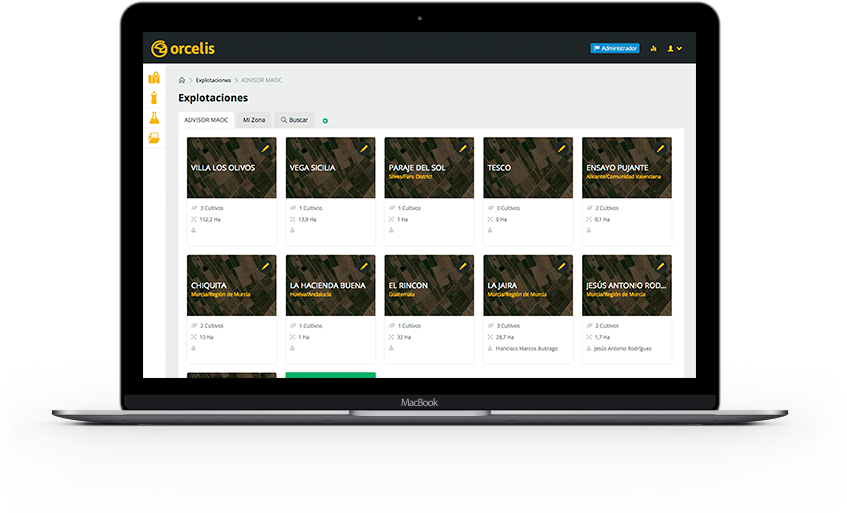 GET TO KNOW US IN 1 MINUTE
Orcelis Fitocontrol is an advanced software for agriculture ALL IN ONE, that allows you to manage and take decisions of your crops in real time considering all parameters: irrigation demand, fertilizer dose, soil, water and foliar analysis, climatic data, NDVI satellite images, etc.
Stop wasting your time introducing data and calculations in excel sheets, now using Orcelis Fitocontrol you can do that and much more with just one click.
FUNCIONALITIES

Fertilizer dose

NDVI Satellite Images

Meteorological data

Sensors compatibility

Irrigation needs

Water, soil and foliar analysis

Water Footprint

Phytosanitary Treatments

Field notebook

Vademecum

VNZ Indicators

Geographic Information System
It is very easy and intuitive.
Learn in just some minutes
ASK FOR A GUIDED DEMONSTRATION AND A TRIAL LICENCE
Get a never seen profitability with smart agriculture
Orcelis Fitocontrol optimizes your resources and avoids unnecessary expenses. Save till 50% of your production costs and take the maximum yield of your crops with a smart system for decisions making.
With Orcelis Fitocontrol you have all advantages.
Intuitive and simple, easy to understand and to use
Manage all your crops from the cloud
Work when and (from) where you want
All in one: Control all variables with just a click
Free support and help
Technical training to get the most of it
Our clients endorse us with
a *98% retention rate
*98% of our customers remain with us
Esto es lo que dicen de nosotros

What I like the most about Orcelis is how easy is to use, its huge date base and their continuous advice about any doubts you may have.
Orcelis helps you to know what is exactly happening in your agricultural holding by filling in the specific parameters of each farm. Furthermore, it provides you with the explotation book that is necessary to comply with the current legislation.
R.M
Agricultural Engineer (Noray)

It is a really useful and efficient tool for the technician because it helps him or her to calculate the nutritional needs very quickly, just by introducing some data about the holding.
You will need very little time to manage all your holdings, including fertilization, irrigation, field notebook, machinery, analysis, etc.
F.E
Technical (Agrogarden S.L)
What we can do for your company?
Leave us your personal or professional information and we will inform you without any commitment.